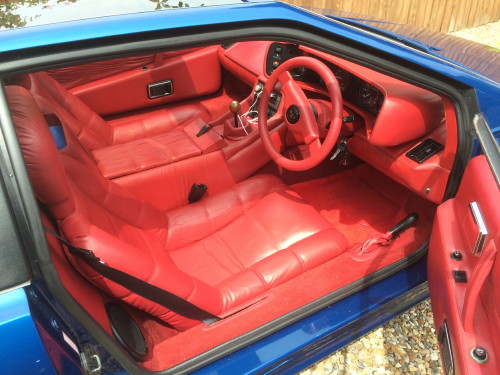 Refurbish or Change the Colour of the Car Interior Using Vinylkote Vinyl & Leather Paint
Car Interior Leather Paint
Vinylkote is a very special coating for use on vinyl or leather and has been used successfully for many years by both enthusiasts and professionals. Vinylkote is a cross between a paint and a dye so it not only coats and recolours the surface of vinyl and leather, it penetrates the surface to ensure a strong and long-lasting bond. It can be used to recolour or recondition the vinyl on the car interior or doors or the leather car seats or upholstery. This solvent-based coating is very fast drying and must be applied by spray either from a spray gun or aerosol can.
The image shows the new interior colour for a Lotus Esprit, sprayed by Fulcher Coach trimmers.
Learn more about Vinylkote Vinyl or Leather Spray Paint.
Cleaning & Preparation
Before starting to spray the interior items of your car it is important to clean and prepare the surfaces you wish to colour following the application guidelines.
To make cleaning and preparation easier it is a good idea, if possible, to remove the items you wish to spray from the car. This is usually easy to do on a classic car, less so with a modern car with multi-functional seats and contoured fittings. Remove door cards being careful not to damage the clips and unbolt the seats to remove.
Cleaning and preparation is everything, it is the most important part of the operation. Firstly thoroughly clean everything which is going to be sprayed with Vinylkleen using a white cloth which you should regularly turn so that contamination you are removing is not reapplied with the dirty part of the cloth. Mask up anything you do not want recolouring and then clean again using Vinylprep. Vinylprep may make the surface of vinyl feel slightly sticky for a time but this is good as it will further assist adhesion of the Vinylkote when you apply it. Some modern leathers may also have to be further cleaned using universal thinners containing toluene to remove the surface lacquer.
Application of the Car Interior Leather Paint
Make sure that you protect the area around where you intend to apply the Vinylkote and please make sure that you are wearing a suitable mask that will prevent you from breathing in paint spray and solvents and gloves to protect your skin. If you have to spray inside the car make sure that everything is properly masked and you have windows and doors open so that you can breathe.
Now is the time to mix your paint. Vinylkote is a very light paint and the colourants will fall to the bottom so it is very important that you thoroughly stir the Vinylkote before use making sure that you scrape the bottom of the can so that all colourant will be reincorporated. If you are using aerosol cans you must shake them for two minutes before use.
Provided you are using a colour that is similar to or darker than the original interior colour you are ready to go.  If, however, you are drastically changing the colour or, if you are applying a much lighter colour than the original, you may want to consider applying a coat of light grey first to 'kill' the original colour before applying your new chosen colour.
Spray Painting
Make sure that you are wearing your mask and gloves then start to spray with your spray gun or aerosol 25cm (10 inches) away from the surface and keep it moving. Apply in fine mist coats until the desired finish is reached. Be careful not to spray from too far away, especially on warm days, or you may get a film of 'dry spray' on the surface caused by the Vinylkote drying as it passes through the air. Also, be careful not to apply too thick a coat as you spray. This can cause the Vinylkote to stick to itself rather than the intended substrate causing you adhesion problems.
When spraying is complete leave for at least 12 hours, in a well-ventilated area, before use and leave longer if the temperatures are low.
Now, after refitting, enjoy your new car interior.
For more information about our car interior leather spray paint get in touch today.